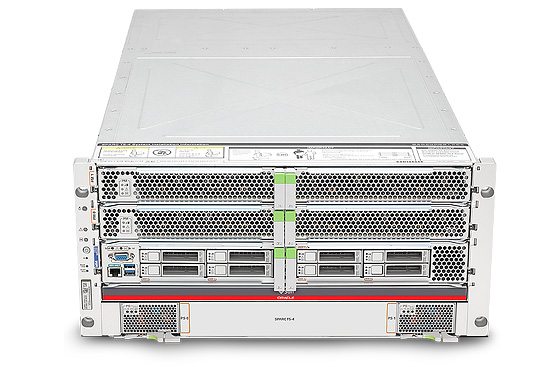 ---
The SPARC T5-4 server is a high-performing four-socket server based on the SPARC T5 processor and optimized for data-intensive and enterprise workloads. The SPARC T5-4 delivers unsurpassed single-thread and multithread throughput performance, built-in no-cost encryption, and enterprise availability features, all in a modular and compact 5U design. It is an optimal server platform for demanding enterprise applications, server and application consolidation, and Oracle Database applications requiring the highest availability and performance.
Utilizing modular design architecture, the SPARC T5-4 is powered by four SPARC T5 CPUs—Oracle's fastest SPARC chip ever—delivering a 1.2x improvement in single-thread performance and a 2x improvement in throughput performance over the previous generation. With 16 cores and 16 memory slots per SPARC T5 processor, the SPARC T5-4 provides extreme compute density with up to 64 cores and 2 TB of system memory, all within a 5U enclosure.  Oracle's SPARC T5-4 server combines high single-thread performance with massive system throughput and I/O capacity, making it uniquely qualified for demanding applications and large-scale server consolidation.
2x throughput performance and 1.2x single-thread performance increase over previous generation accelerates application performance and improves scalability
Enterprise-class availability in a compact design
Built-in, no-cost virtualization technology with Oracle VM Server for SPARC and Oracle Solaris Zones simplifies server consolidation, improves utilization, and reduces operational overhead
Runs Oracle Solaris 11 and Oracle Solaris 10 with guaranteed binary compatibility and support for legacy applications
Massive I/O performance supports up to 16 hot-pluggable low-profile PCIe 3.0 slots
Industry Leading Quality, Support and Integrity
Quality Inspection Checklist
Before it leaves our facility, every used and refurbished item is thoroughly inspected by our certified technicians and undergoes our exclusive Quality Inspection Checklist to ensure 100% satisfaction guarantee.
Greentec Systems is a leading provider
For server, networking and storage equipment. We have an extensive array of inventory of IBM Servers & Storage, Sun Servers & Storage, Cisco Networking (Switches, Routers, Security), and NetApp Storage (disk shelves, disk drives, Filers, NearStore, NetCache). If you don't see the item or product you require please contact us.
Have this equipment to sell?
Depending on the age and condition of the equipment, there is a very good likelihood that we will be able to offer you cash or trade-in credit for other IT hardware. If the equipment is very old we can also assist you with properly decommissioning that gear in the most environmentally friendly way possible.
Questions?
For more information please contact 888.333.7388, or fill out the quote from above. We'd love to hear from you.