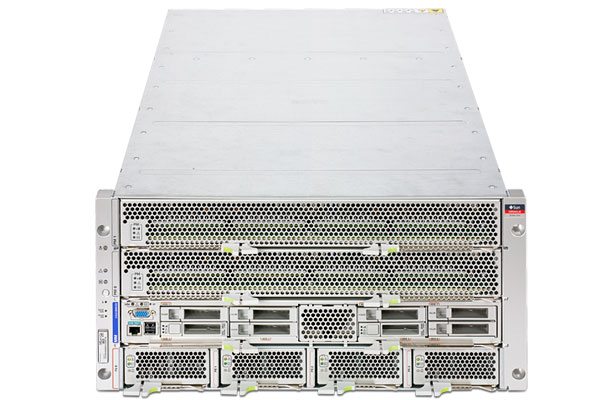 ---
The SPARC T4-4 server is a highly performing database and enterprise workload server and it is the most powerful server in the T-Series product family. It offers a choice of two or four SPARC T4 processors, up to 1TB of memory, sixteen PCI-Express Gen2 slots, and up to eight HDDs or SSDs all in a compact 5 RU design.
The scalable SPARC T4-4 server running Oracle Solaris delivers world record performance with outstanding security and availability in a 5 RU design. Ideal for enterprise applications and large consolidation projects requiring a single server, it supports multiple application tiers and single- and multi-threaded workloads.
5x increase in single-thread performance and 7x increase in floating point performance over previous generation servers for a wide range of enterprise applications
Massive I/O performance supporting up to 16 PCI Express Module slots
100% Oracle SPARC/Solaris binary compatibility for easy migration and ongoing investment protection
Improve system utilization and reduce costs with real-time scaling and workload consolidation
Best in class, wire-speed security with integrated on-chip cryptographic acceleration
The SPARC T4-4 is a compute node building block for the new Oracle SPARC SuperCluster T4-4
Key Applications
Large scale enterprise applications: ERP, CRM and custom applications
Enterprise application and server consolidation
Database, analytics, data warehousing, and OLTP
Multi-tiered application deployments
Industry Leading Quality, Support and Integrity
Quality Inspection Checklist
Before it leaves our facility, every used and refurbished item is thoroughly inspected by our certified technicians and undergoes our exclusive Quality Inspection Checklist to ensure 100% satisfaction guarantee.
Greentec Systems is a leading provider
For server, networking and storage equipment. We have an extensive array of inventory of IBM Servers & Storage, Sun Servers & Storage, Cisco Networking (Switches, Routers, Security), and NetApp Storage (disk shelves, disk drives, Filers, NearStore, NetCache). If you don't see the item or product you require please contact us.
Have this equipment to sell?
Depending on the age and condition of the equipment, there is a very good likelihood that we will be able to offer you cash or trade-in credit for other IT hardware. If the equipment is very old we can also assist you with properly decommissioning that gear in the most environmentally friendly way possible.
Questions?
For more information please contact 888.333.7388, or fill out the quote from above. We'd love to hear from you.