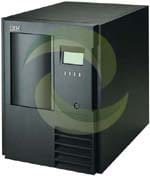 ---
The IBM 3583-L72 tape library is designed to allow simultaneous attachment of servers and applications to LTO logical library partitions, allowing mixed Ultrium drives and media.
Model: L72
Tape Drive Type:  IBM LTO Ultrium 1, 2 or 3
Number of Drives:  Up to 6
Number of Tape Cartridges:  72
Library Capacity:  Up to 57.6TB per library compressed; 28.8TB native
Sustained data transfer rate:  Up to 80 MBps native with LTO Ultrium 3
OS support:  Device driver support is available for AIX; OS/400; i5/OS, Windows 2000; Windows Server 2003; Sun Solaris; HP-UX; and Red Hat and SUSE LINUX
Industry Leading Quality, Support and Integrity
Quality Inspection Checklist
Before it leaves our facility, every used and refurbished item is thoroughly inspected by our certified technicians and undergoes our exclusive Quality Inspection Checklist to ensure 100% satisfaction guarantee.
Greentec Systems is a leading provider
For server, networking and storage equipment. We have an extensive array of inventory of IBM Servers & Storage, Sun Servers & Storage, Cisco Networking (Switches, Routers, Security), and NetApp Storage (disk shelves, disk drives, Filers, NearStore, NetCache). If you don't see the item or product you require please contact us.
Have this equipment to sell?
Depending on the age and condition of the equipment, there is a very good likelihood that we will be able to offer you cash or trade-in credit for other IT hardware. If the equipment is very old we can also assist you with properly decommissioning that gear in the most environmentally friendly way possible.
Questions?
For more information please contact 888.333.7388, or fill out the quote from above. We'd love to hear from you.