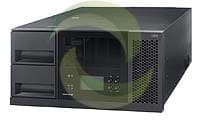 ---
The TS3400 Model L5U delivers high performance drive technology.  The 3577-L5U houses up to two 3592 tape drives that are fibre channel.
Up to two TS1120 Model E05 Tape Drives
Holds two removable magazines, providing 18 data cartridges, including a 0 or 3-slot I/O station
Bar code reader standard
700 GB tape cartridge 3592 Extended Data (JB) and WORM (JX)
500 GB tape cartridge 3592 Data (JA) and WORM (JW)
100 GB tape cartridge Data (JJ) and WORM (JR)
Has two removable magazines
Encryption capabilities designed to work with the IBM Encryption Key Manager component supporting System Managed and Library Managed encryption, and support for Application Managed encryption.
Dual power supplies for redundancy
Fibre Channel attachment: The TS3400 Tape Library with TS1120 Tape Drives is designed to provide native switched fabric 4-Gbps Fibre Channel attachment. They are supported on IBM System p, IBM System i, IBM System z Linux, Sun Solaris, HP-UX, Microsoft Windows 2003, Linux, and other open systems.
IBM's Multi-Path Architecture for single or multi-server attachment of homogeneous or heterogeneous systems or applications.
Path failover function for both control paths and data paths.
Stand-alone free-standing library or with optional rack mounting in an industry-standard 19-inch rack.
Industry Leading Quality, Support and Integrity
Quality Inspection Checklist
Before it leaves our facility, every used and refurbished item is thoroughly inspected by our certified technicians and undergoes our exclusive Quality Inspection Checklist to ensure 100% satisfaction guarantee.
Greentec Systems is a leading provider
For server, networking and storage equipment. We have an extensive array of inventory of IBM Servers & Storage, Sun Servers & Storage, Cisco Networking (Switches, Routers, Security), and NetApp Storage (disk shelves, disk drives, Filers, NearStore, NetCache). If you don't see the item or product you require please contact us.
Have this equipment to sell?
Depending on the age and condition of the equipment, there is a very good likelihood that we will be able to offer you cash or trade-in credit for other IT hardware. If the equipment is very old we can also assist you with properly decommissioning that gear in the most environmentally friendly way possible.
Questions?
For more information please contact 888.333.7388, or fill out the quote from above. We'd love to hear from you.